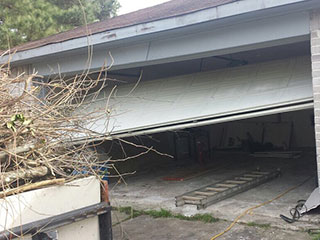 Wind load refers to the pressure applied to your garage door and other entrances as a result of strong winds. Are you aware that winds can blow up to a speed of 180mph during a hurricane? Pretty fast! If you're in an area prone to extreme weather like this, we strongly recommend you take measures to reinforce your overhead door. If it's already pretty old, you may even wish to consider replacing it with one that meets basic wind load regulations in your area.
Don't Let Your Door Blow Away
A very strong hurricane may have the power to blow sectional doors and roofs away. As a result, we always advise to plan ahead rather than leave reinforcement and action to the last minute. In terms of door material, we recommend low guage steel that comes with supportive bars as a durable and sturdy option.
Are You Up To Speed With The Regulations?
It is a good idea to familiarize yourself with the building code requirements of your region – if hurricans are a real danger, a well supported door with large and strong tracks will make all the difference. You should also secure the tracks in place with brackets made by low guage steel. Lastly, we recommend strong and resistant panels that come with supports to prevent the possibility of panels getting blown away in the midst of a bad storm. Additional debris resistance can also help to ensure that the doors are resilient and strong enough to handle strong impact caused by extreme weather.
Knowing What To Check
Hurricane-proof doors should be designed with local wind load calculations in mind – it is all about ensuring that they can withstand the power, velocity and speed of the wind. In general, we advise against windows for such doors as there can be a risk that tree branches and other objects smash them open during a storm. Lastly, regular door maintenance is definitely recommended to ensure the whole system is ready for a hurricane – we recommend an annual check at least to ensure everything is in order.
Has this article got you thinking? Is your door ready for potential storms? Contact our experts today to discuss this subject further.